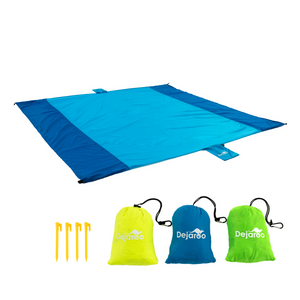 Plenty of space for you, your family and beach gear. This extra large beach blanket is the perfect size (put measurements in) - not too big and not too small for a day on the beach with friends or family. It can be folded and packed into the small attached bag and will easily fit into your bag, backpack etc. making it a great for all beach trips.

No more sand sticking to your beach towel - This diamond sewn, breathable, rip stop parachute nylon material (Janine material check) is the best for the beach. No more sand stuck all over your beach blankets, sand falls/blows right off. Won't tear like other blankets! Water resistant and dries quickly after getting wet so it can be used again.

Superior design and quality - Four corner pockets can be filled with sand or rocks to keep your blanket from flying up. Four stakes are also included in case you're at a picnic or sports game.

Multipurpose and versatile for your outdoor needs - Use it as a beach picnic blanket, park picnic blanket and more! This is the perfect accessory for vacation, hiking, camping, sporting events, your kids sports games, a day at the beach or hanging out with friends or family in your backyard!

Our lifelong promise to you - We love and take pride in our products and believe in them that we are offering you a lifetime manufacturer warranty; if there are any issues with your product, just contact us and we will make it right; order now and we promise that this product will live up to your expectations!